Without a car in Miami Beach and South Beach – one of the few places in Florida where it works.
Study our insider guide to the world's most well known tourist destination.
This beach city on a long and narrow island at the Atlantic Ocean has something for everybody. Age, gender, interests and size of wallet is of no importance.
SoBe (South Beach) is mandatory of course, but not necessarily where to stay.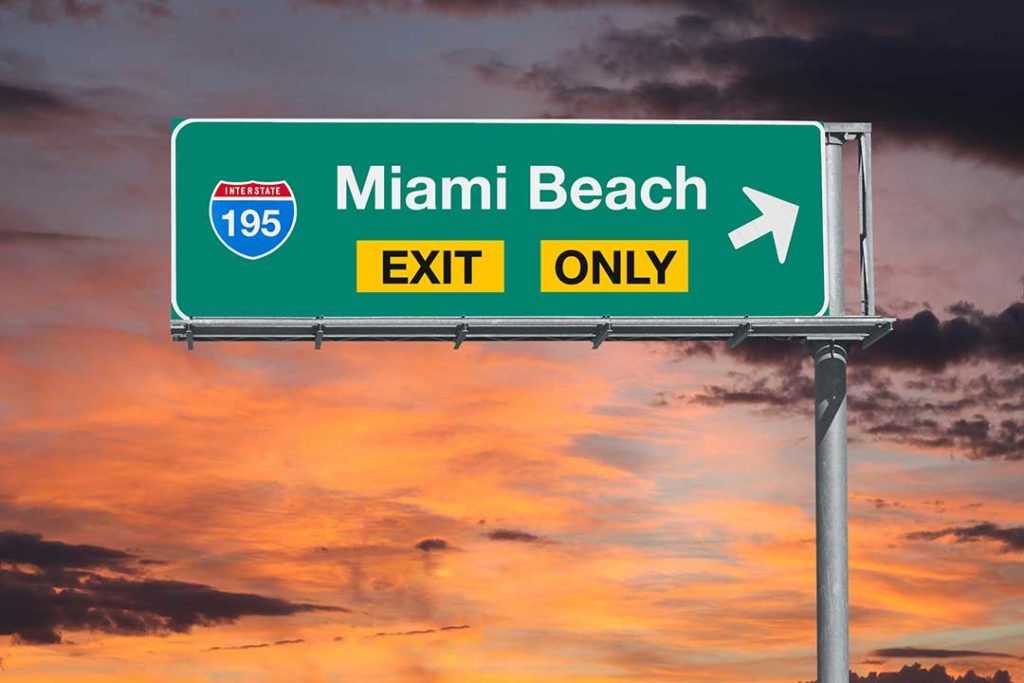 Forget Miami (for now). It's the mainland. That is where the airport is located. Miami Beach is your destination.
The center of the beach town is located 20 kilometers from Miami International Airport. The journey takes about half an hour by bus, car, taxi or if the hotel has a direct shuttle.
Miami Beach is Art Deco hotels, nightlife, the famous beach and – not least – South Beach.
Choose according to taste and needs. You will find your own Miami Beach if you follow our guide.
Miami Beach is more than a place with only hotels, restaurants and nightlife. But while that is exactly what the city stands for, over 90,000 people call Miami Beach their home.
96 streets to navigate from south to north
From the city's southernmost point, the harbor entrance and 1st street, it is 96 blocks (streets) to the northern city boundary. (If you count the entire Miami/Dade county, Miami extends another 100 blocks north.)
The elongated, and mostly narrow, area is easy to orientate. Collins Avenue is the benchmark north-south.
The numbering of the streets (west-east) is simple, just count 1, 2, 3 … to 96. If the address of your hotel is 1200 Collins Avenue, then you are on 12th street.
Almost without exception you always have the Atlantic Ocean close. Great as an orientation, and not least when looking for a hotel near or on the beach.
Without a car in Miami Beach – use bus and free trolleys
Without a car in Miami Beach on my holiday? It is a question our readers often ask. The answer is that it can work, actually better than at most other popular locations in Florida. But as a tourist you get restricted and referred to the bus lines.
However, there are positive ways of looking at the subject:
The Airport-Beach Express runs directly from the airport to a number of stops in South Beach.
It is easy to get to the mainland, where public transport is better (for those who want to explore Miami neighborhoods).
Miami Beach has four free trolleys that cover virtually the entire city (although this option often comes with more than one trolley ride).
It works without a car in Miami Beach especially if your holiday is about spending time only in South Beach. This portion of the city offer walking distance to everything.
After all, almost all Florida visitors choose ro rent a car. Don't expect Miami Beach hotels to offer free parking. Best, and cheapest, solution: Park your car in one of the many parking garages.
What to do (and not to do) in Miami Beach – the list is endless
Casa Casuarina – known as the Versace Mansion and home of the Italien fashion designer Gianni Versace until his brutal death 1997.
The art deco buildings – walk on your own and admire these architectural masterpieces or book a guided tour.
Ocean Drive – the part from 5th street to the northern end at south of 15th street. Option: Walk along Lummus Park to avoid the luxury restaurants, but make an exception for Mango's Tropical Café and News Cafe (our favorite spots). Avoid the sidewalk restaurants at the hotels, unless you happen to be a millionaire.
Shopping – only if money is not an issue, but do visit the pedestrian street Lincoln Road (at least for window shopping). Best, and cheap, shopping you find at other places.
The beach – especially the area next to Lummus Park is where you see the beautiful people. Also along the lesser known SoFi area (South of Fifth).
Rent a bike – several ways to cycle around the city, we set the Miami Beach Boardwalk as the best benchmark. The boardwalk is also excellent for walking, along the beach from the southern point of South Beach northward to Indian Beach Park, almost 50 blocks.
Sunday fun – when most people have their day off, Ocean Drive is a show off place, a new fancy vehicle or an expensive dress.
Where to go on the mainland?
There is really no reason to leave the beach. But most people want to see a bit of the mainland.
Downtown Miami. Although the city center is more alive nowadays it does not qualify on our to-do-list. Below places are much better.

Everglades – the only must-do-excursion in south Florida.
Little Havana – the absolute best example of Miami's ethnic diversity and this famous Cuban neighborhood offers exotic charm along Calle Ocho.
Wynwood – a neighborhood (previously dominated by Puerto Ricans) which today is synonymous with nightlife and shopping, and – most of all – art. The latter, among other things, in the form of colorful murals, which highlights the area.
READ MORE: Places to have fun in Orlando – hundreds of activities
READ MORE: Find best outlet shopping in Fort Lauderdale
Hundreds of Florida activities – excursions, sports, nightlife – book here!
Please click on an activity and get more alternatives.