When is the Florida hurricane season? A common question, the answer is June 1 to November 30.
After Katrina (and the others 2005) it was calm until 2017 which was a year with a real test of strength for the state's hurricane preparedness.
Florida is on high alert for the hurricane threat during the hurricane season. Tourists can be sure of being evacuated in time.
Florida hurricane season: Have respect, but do not refrain from a visit

If tropical storms and hurricanes had been a reason to stay away during the Florida hurricane season, the state would have had to close as a tourist destination for the entire half of the year.
You should (just like during a thunderstorm at any other place in the world) have respect for the forces of the weather. But do not refrain from traveling here during the time the risk exists.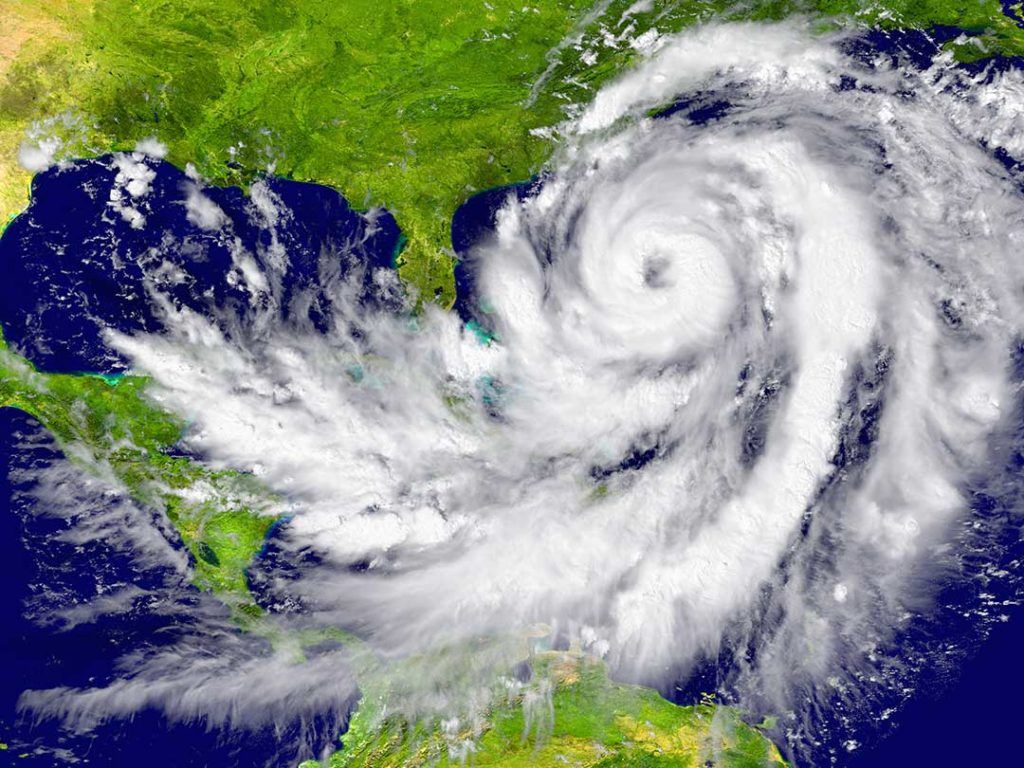 A summary of the last 20 years in Florida regarding the Florida hurricane season is quite simple:
2005 was the year when we were reminded of what powerful hurricanes can do. Especially through Katrina, who ruined New Orleans, but who also hit Florida.
The same year also Rita, but above all Wilma who took a tricky road via the western Everglades and hit Miami with full force from the land side, which is unusual.
Tourists are evacuated well in advance
The Florida hurricane season runs from June 1 to November 30. It is during this time that weather conditions work together to place Florida at risk. These include water temperatures and the so-called El Nino effect.
But there are rarely any tropical storms that strike before the end of August. But we have seen occasional exceptions.
As a tourist, you do not have to worry. The preparedness is high, you are warned in time and if you are not foolhardy and stay in the wrong place, the authorities ensure that everybody is evacuated to safe areas.
So do not hesitate when planning a summer trip to Florida. The weather will make the trip special. There are even residents, not least Europeans, who say that summer is the best time. In addition, the days are longer also at these latitudes.
Dorian (2019) is a storm for the history books
Florida hurricane season 2019: The Atlantic's fourth named storm in 2019 quickly became known as Dorian, a hurricane that will go down in history for several reasons:
The devastation that this Category 5 hurricane created on islands in the Bahamas.
Its strength – there has been talk of the most powerful hurricane ever seen.
The speed. Or rather the lack of speed. Dorian stood almost completely still for a few days, which made the situation in the Bahamas even worse.
Despite the fact that Florida did not see Dorian go ashore, it still ends up high on the list of the most powerful hurricanes that have landed (two land falls in the Bahamas). In fact, it is only the Labor Day hurricane of 1935 that is ahead.
Irma kept us awake during several days and nights
Florida hurricane season 2018: This was Michael's year. Not as noticed as Irma the year before, but the consequences were enormous. However, Michael did not move around tourist-dense areas, so we did not cover this hurricane much.
Florida hurricane season 2017: It was different with Hurricane Irma that affected the whole of Florida, the worst in the Florida Keys and in the southwest. Irma kept us awake for several days and nights and contributed to an intensive monitoring of the storm – before, during and after two land falls.
When we realized that Irma (unlike most tropical storms) could seriously become a threat to Florida, we started studying all the information. At an early stage, we encouraged visitors to seek refuge from the coasts, Irma's path was then very unpredictable and it was important to point out the seriousness of the situation.
Unfortunately this warning was ignored and when it was way too late we received many distress calls from European visitors who had not prepared an alternative hotel in a safer place.
After much spin in the Caribbean (where several islands, including Cuba, suffered severe damage), Irma took the Florida Keys and made land fall on Cudjoe Key. Thus, the damages came primarily to the Lower and Middle Keys.
The first reports said Irma would then hit southeast Florida. So the initial evacuation plans were primarily for Miami and Fort Lauderdale. But Irma slanted across Florida Bay and made her second land fall in southwest Florida. This caused severe damage to Ten Thousand Islands, including Marco Island, as well as the Naples area.
The same thing would have happened to Fort Myers, Sarasota and other places on the west coast if the hurricane had not decided to stay over land. Irma followed Interstate 75 north and spared the coast.
The hurricane was now weakened and moved via Orlando further north in Florida.
The entire state was affected. The death toll in Florida was 91.
Our work to follow Hurricane Irma actually became even more difficult in the aftermath (which is the reality when a hurricane has struck). Overview of the consequences in the form of floods, devastated residential areas and more was actually more difficult than reporting the hurricane's path towards the state.
Irma became a full-time job for Florida.nu for a month.
… and Matthew was a powerful category "five" in 2016
Florida hurricane season 2016: Hurricane Matthew (September 28 – October 10, 2016) was the first "five" in the Atlantic in nine years. As so often, this hurricane began with a low pressure off the coast of Africa that moved across the Atlantic like a tropical storm (TS) and then got a name: Matthew. The storm grew into a Category 5 hurricane (the first in the Atlantic since Felix in 2007) when it reached the Caribbean.
To put Matthew in context: 2016 had about 15 named storms – from Alex to Otto.
Matthew caused great devastation in the Caribbean, in countries/islands such as Jamaica, Cuba and Haiti.
For Florida, it was relatively calm in the Miami area, mostly bad weather. Then Matthew pulled closer to the coast and it was preparing for evacuation along the Atlantic coast.
Disney World was forced to close the parks
The threat was considered so serious that attractions in Orlando (like Disney World) closed, which has happened very rarely in connection with hurricanes in Florida.
From our own horizon, I remember the reports from Gunnar Hedqwist (the one of us who is in Florida full time) during these days:
"We will evacuate. First we will put the ship in safety in a more protected port, then we will leave the house in St Augustine for a safer place further inland."
Two deaths from falling trees
In the St. Augustine area, like along the entire long coast, all buildings are on such a low level that if the hurricane goes ashore entire islands and lands can be washed away. Monica and Gunnar Hedqwist moved to safety and were able to return home after a few days. Matthew had passed by, causing a severe storm with much rain, but the damage to their home was limited to a minor flood in the garage.
In Florida, Matthew caused three hurricane-related deaths (two from falling trees, one due to an ambulance failing to reach a heart patient) and major property damage despite the hurricane never "landing" in the state. Matthew weakened to a Category 1 (this happened in Myrtle Beach, South Carolina) after which the hurricane made a U-turn and actually once again seemed to be able to return to the Florida coast.
Florida hurricane season 2005: Katrina, Wilma and Rita
2005 is the hurricane year above all others when we sum up hurricanes in Florida in modern times. So many named tropical storms that the alphabet ended after Wilma.
Everybody remembers Katrina who ruined New Orleans. Katrina first struck north of Miami, crossed Florida on its way north and summed up as one of the five deadliest hurricanes ever.
Rita – a powerful "five"
That same year, Florida was first hit by Rita (September 18-26), a powerful "five" that prompted authorities to issue a general evacuation of the entire Florida Keys.
These are the acute weather situations we see the following:
Overseas Highway is closed to southbound traffic, both lanes are used for evacuation to the north.
Very few of the permanent residents ("the conch's") raise a finger to evacuate whatever is ordered. "We live here, we have experienced this before. Now we start up our generators, nail the shutters to the windows and stock up on groceries."
Over 100 deaths, virtually all related to evacuation in Houston, Texas.
Wilma deceived the hurricane experts
Wilma (October 16-27) first affected the South Florida Keys and later appeared to "park" in Mexico. But grew in strength, to the great surprise of the hurricane experts, and moved very slowly, but with great force, towards southwest Florida, where on its eastern route it devastated the area around Flamingo, with the Everglades southernmost visitor center.
Before Wilma disappeared into the Atlantic in the vicinity of Jupiter, the hurricane caused major damage in Miami. We saw the worst example in Coral Gables shortly afterwards.
As with all hurricanes that caused unusually large damage, the name has been removed for the future. In Wilma's case, replaced by Whitney, until 2020 it seemed very unlikely that the National Hurricane once again will end up so far in the alphabet.
Few deaths in Florida. Over six million people in South Florida were without power for several weeks.
I have never been up close to a tropical storm
During my time in Florida and during regular visits since the 70's, I have never been near any hurricanes in Florida, not even a tropical storm has wanted to get in my way. So no personal experience of hurricanes in Florida.
On the other hand, I have experienced really powerful storms and thunderstorms, even seen the occasional tornado up close. These experiences have given me respect for what the weather can do, even if (in my case) it has only meant that I have been forced to park the car and take a short coffee break.
PETER SUNESON
READ MORE: Average temperature, sunshine & rain for 9 places
NOTE: When the official hurricane season is over November 30, we will summarize 2020, which had so many tropical storms that the alphabet was not enough.
FAKTA OM ORKANER I FLORIDA
Historic Florida Hurricanes:
The Okeechobee Hurricane – devastating storm in 1928. The hurricane caused Florida's largest lake to flood, leading to six meters of water and several communities being completely submerged. 2,500 deaths.
Labor Day Hurricane – the most powerful hurricane ever in the United States. Resulted in the end for the Overseas Railway, which was later replaced by a highway from the mainland to Key West.
Andrew – a milestone in the hurricane's history book. The hurricane, which ravaged more than 25,000 homes and damaged another 100,000 homes in South Florida in 1992, killed 65 people. After Andrew, Florida radically changed its building codes so that one now has to follow very strict directives regarding new constructions.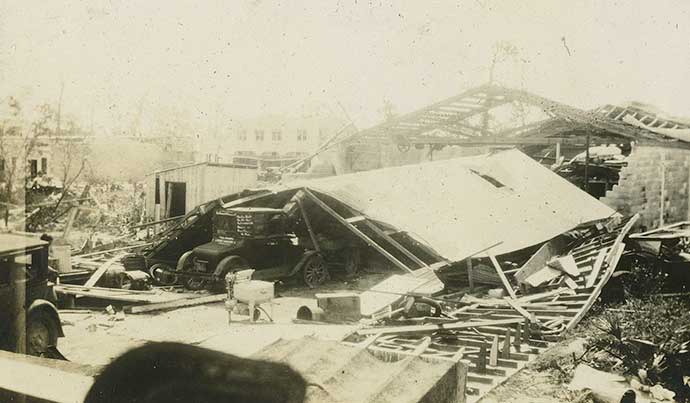 Charley – a 2004 hurricane that affected southwest Florida, among other places. Charley went ashore three times. Major destruction around Port Charlotte and Punta Gorda. Before that, it divided North Captiva into two parts. The island has previously been "hurricane-marked" with a strait that arose due to a hurricane in the 20's.
Hundreds of Florida activities – excursions, sports, nightlife – book here!
Please click on an activity and get more alternatives.