Outlet shopping in Fort Lauderdale, that is reason enough for a visit to "Venice of Florida". Tourists come here for bargain shopping at Sawgrass Mills.
This popular holiday destination is characterized by its waterways, the canals and New River.
The beach in Fort Lauderdale seems endless, and you should not consider any other area to stay than within walking distance to the Atlantic Ocean.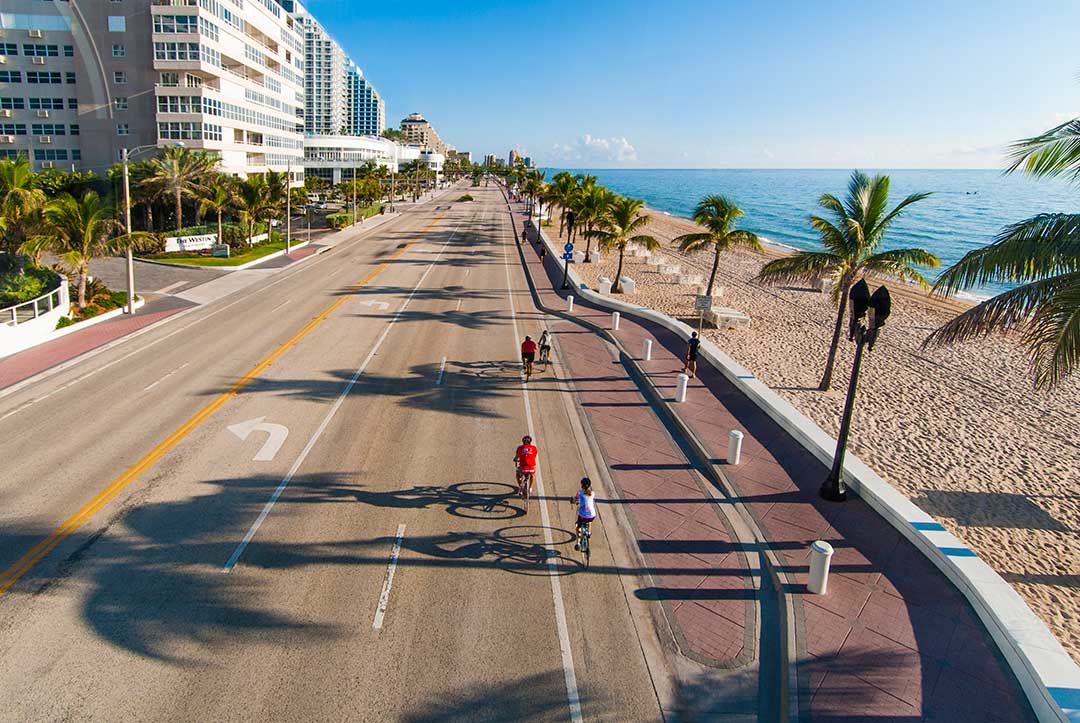 As visitors, we stay within a fairly limited area of Fort Lauderdale. The airport, the adjacent cruise port, the seemingly endless beach (of course!), a visit to Las Olas Blvd and picturesque Lauderdale-by-the-sea. With excursions to neighboring Hollywood Beach, to mandatory Everglades and (almost as mandatory) Miami Beach.
Greater Fort Lauderdale has many suburbs and is part of the Miami metropolitan area with over six million residents.
The city, which is the county seat in Broward, is located 40 kilometers north of Miami Beach. It is only a 15 minute drive from the airport to our favorite hotel, while Miami International Airport is 50 kilometers/45 minutes away.
A city where you can go by boat to the attractions
A place, like so many others in Florida, where the indigenous people were exterminated because of diseases and wars caused by Spanish colonizers. The Tequesta tribe was located on the New River, which thousands of years later came to be called The New River Settlement (with a handfull of settlers).
The city grew strongly, a real boom, after World War II and, rightly so, had a bad reputation for several decades as "The Spring Break Capital of the World". That stamp is gone. Instead, we now see a modern city that has an offensive environmental mindset and is far ahead of the rest of Florida in public communications. A regional railroad, a commuter railroad and soon a streetcar serving downtown Fort Lauderdale and beaches.
The airport – Fort Lauderdale/Hollywood International Airport – is the fastest growing in the entire United States and the Port Everglades cruise port is the third largest.
The city is said to be the world's largest center for motor yachts, the place where many boats change crew.
Jungle Queen or a water taxi on 260 kilometers of canals
With New River as well as the extensive network of canals, with a total length of over 260 kilometer, the city is made for boat traffic. So get onboard the classic Jungle Queen, several different options to chose from. From a lazy morning cruise to a BBQ dinner cruise.
You also have several options with water taxi.
Most popular is the "Fort Lauderdale Route". It connects to the other two routes and goes mostly parallel with the beach area. The "River Route" takes you towards downtown, perfect for getting to Las Olas boulevard. My favorite is the "Express Route". Board at Hilton Marina (same stop as "Fort Lauderdale Route") and then non-stop to Hollywood Beach where you get off at Margaritaville Beach Resort for a leisurely walk on the Hollywood Beach Broadwalk (note the spelling!).
The Fort Lauderdale beach seems to have no end
The Fort Lauderdale beach is amazing. It goes from the north jetty at Port Everglades and continues infinitely north towards Pompano Beach and on to other beach towns. If we walk north and stop at Lauderdale-by-the-beach the distance is about 12 kilometers.
The most popular part is Las Olas Beach and the beach at Fort Lauderdale Beach Park.
The beach is also where you should stay. Aim for walking distance to the Atlantic. See examples in the hotel section, and already here a favorite: Bahia Mar – Doubletree by Hilton, our bestseller in the area.
What to do in the Fort Lauderdale area?
Besides outlet shopping in Fort Lauderdale, what to do?
Head to Lauderdale-by-the-sea, a lovely, quaint neighborhood.
The mandatory visit to Everglades. Either aim for the real stuff (i.e. the national park), or chose the famous Everglades Holiday Park, conveniently located where urban environment meets "The River of Grass".
See the impressive Seminole Hard Rock Hotel & Casino (with the new building in shape of a giant guitar) in Hollywood.
If going to Miami Beach (which we certainly recommend), choose the slow road, at least one direction. You will not regret spending one hour along the Atlantic coast, passing a variety of towns and suburban areas with different characters. When you see Aventura's eye-catching skyscrapers (mainland), you have crossed the county border and can begin to count down the streets – from about 200th Street and aim at a parking garage in South Beach.
The Swap Shop – a combination of an enormous drive-in movie and flea market. Both claim to be the largest in the world. The flea market is open seven days a week. Follow Sunrise blvd from the beach, on the right after approximately ten kilometers.
…and what not to do in Fort Lauderdale!
…and with above headline it's going to be all about traffic tips:
Avoid Interstate 95! This applies especially southbound. The traffic on I 95 can be brutal, especially at rush hour. Not the same highway we experienced at the first visit. I 95 was just completed (1975) back then nobody in southeast Florida had ever heard of a traffic jam.
Beware of I 595! Going west almost inevitably means I 595. This is the busy highway you drive to reach I 75 and further west (Alligator Alley for example) or to get to Sawgrass Mills. Stay in your file, plan your next move ahead of time, keep track in all directions and in all rear view mirrors.
If you are going north, the Florida Turnpike (a toll road) is the perfect choice. Although it has changed over the decades it is, after all, pure relaxation compared to I 95. Advice: Try to get to a ramp without having to use neither I 95 nor I 595. It may cost you some minutes to use these backroads, but you gain peace of mind. Once on the turnpike it is a comfortable drive for three hours (350 km) to Orlando (as an example).
Above advice also applies to southbound road trips, like of you are heading towards Key West. Find the nearest ramp to Florida Turnpike and you will have then have a smoth ride to the southernmost point of the Florida peninsula. Alternative for a Key West trip, if you have a full day to spend on the road: Choose the slow A1A to Miami Beach, cross over Biscayne Bay on MacArthur Causeway and continue on US1.
Outlet shopping in Fort Lauderdale equals Sawgrass Mills
This gigantic complex, which from above has the form of an alligator (what else?), is considered the world's largest outlet center. If the term outlet always means low price this may even be true. Sawgrass Mills is really gigantic. We know for sure Sawgrass Mills and The Colonnade Outlets is the largest shopping mall in the United States, with more than 350 stores, many of them discount outlets.
An outlet center where the visitor needs a map, and probably still can't find the right route. Here you find designer brands such as Gap, Nine West, Calvin Klein and Nike mixed with high-end stores like Gucci and Burberry.
If you fancy outlet shopping in Fort Lauderdale, Sawgrass Mills is located in the suburb of Sunrise, next to the BB&T arena and Ikea.
If you do not want to drive there yourself, there are shuttle buses. Ask your hotel reception or search among activities offered by Get Your Guide.
READ MORE: Maps to all major outlet centers in Florida
READ MORE: Places to have fun in Orlando – hundreds of activities
There has been three fortresses in the area namned Fort Lauderdale.
Broward county has a population of two million people, which makes it the 17th most populous county in the US.
The countyt is named after Florida's governor 1905-1909, Napoleon Bonaparte Broward.
Fort Lauderdale is not near the latin influence we see in Miami, only ten percent of the population has Spanish as their first language.
Hundreds of Florida activities – excursions, sports, nightlife – book here!
Please click on an activity and get more alternatives.