Orlando water parks you find everywhere, especially at the famous theme parks.
Classic Wet 'N Wild is gone. Instead we have Volcano Bay, Aquatica, Blizzard Beach, Typhoon Lagoon and Legoland Water Park – and even a water park hotel!
As if it was not enough with all other parks and attractions – the Orlando water parks also makes the destination a water paradise with lot of chances to some spectacular splash.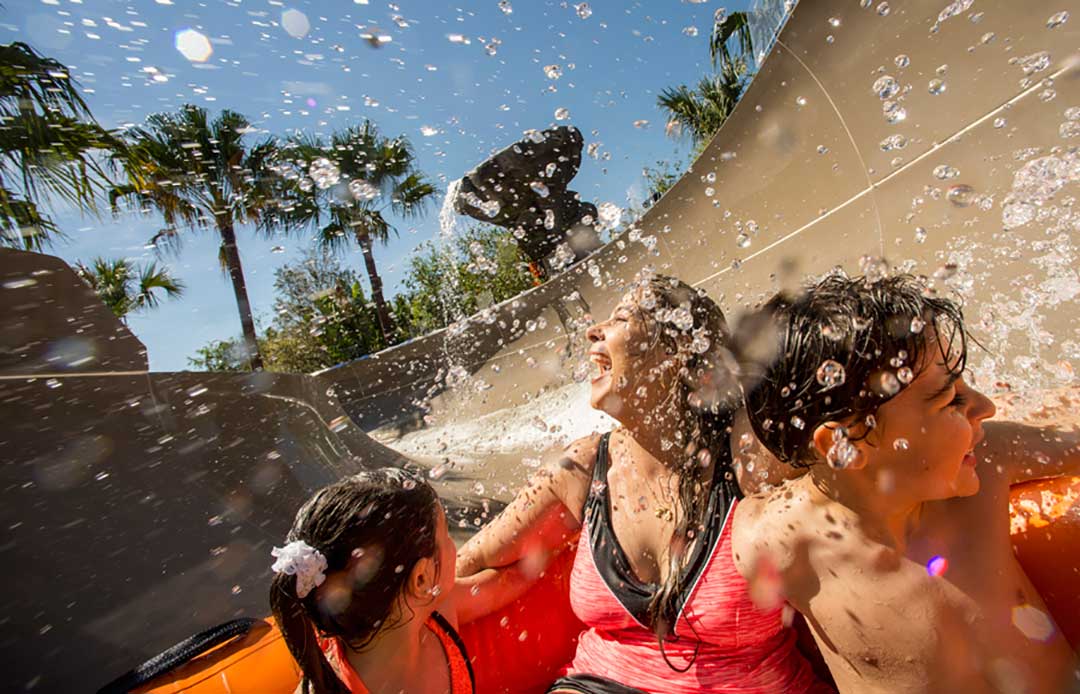 Orlando water parks from Blizzard Beach to a water resort
Not all water parks are open all year round, so check opening hours.
Most of the Orlando water parks are owned by the major theme parks, such as Disney, Universal, Sea World and Legoland.
For water fun read about the Orlando water parks. Follow the links for more information about places to splash.
Note: Separate texts about single parks are under construction, have patience and the links will soon be active.
Blizzard Beach
A Disney park, built around the imaginative story that Florida is hit by a snow storm – almost a new ice age – that led to an alpine ski resort.
But the snow melted (of course) and the result became this water park.
READ MORE: A blue alligator came up with a brilliant idea!
Typhoon Lagoon
Also here is a background story about a natural disaster, this time in a tropical setting. The Crush 'N' Gusher attraction is a high-tech water adventure in this Disney park. Now also with the family adventure Miss Adventure Falls.
READ MORE: Disney Worlds largest water park
Aquatica
Colorful park with the same aquatic animals as at the owner Sea World. Special price at Official Ticket Center to book a combination ticket.
READ MORE: Close contact with dolphins at Aquatica
Volcano Bay
Volcano Bay is the new park in Orlando where you do not have to wait in line! The park, named "the third Universal park", has a high-tech virtual queue system that they named TapuTapu.
READ MORE: How to get a ticket to the volcano
Legoland Water Park
Opened 2017 as part of Legoland Florida in Winter Haven. A water park especially for the youngest.
READ MORE: Legoland Water Park for the youngest
CoCo Key Water Resort
Water park and hotel takes place among Orlando water parks of course. A good family hotel in a very good location on International Drive.
READ MORE: Here you stay in the water park
Hundreds of Florida activities – excursions, sports, nightlife – book here!
Please click on an activity and get more alternatives.