No cash on Florida toll roads – a more common sight in part of the state. Pay attention, you do not want to start your vacation by paying a fine.
There are two ways of breezing through the toll stations without stopping (and saving some money at the same time):
A toll-by-plate deal with the car rental agency.

Buy a Sunpass transponder.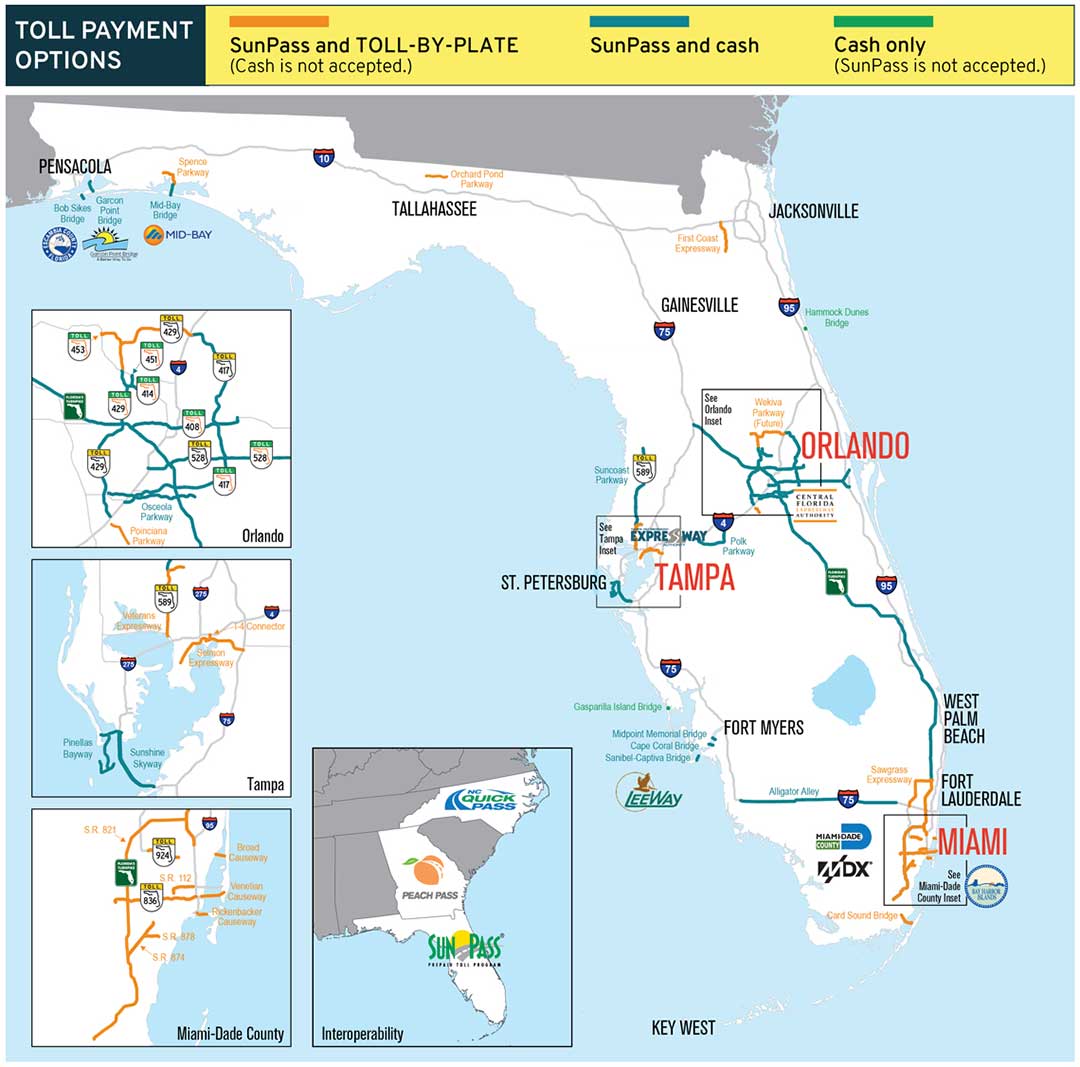 In some areas in Florida you can still stop and pay cash toll. But be alert as soon as you approach Miami, you will find that several highways have abonded the tollbooths and are operated automatically. But even at manned stations, it is an advantage to be able to breeze through without having to slow down and wait in a queue to pay.
For many years we stubbornly claimed that "cash is king" and it took some time before we got used to the fact that more and more motorways became automated. Nowadays, we do not drive near southeast Florida without a Sunpass transponder or other agreement.
Even where toll roads are accepting cash payment we recommend either a toll deal or a Sunpass for several reasons:
More favorable deals offered by most car rental agencies (see more information further down).
Lower toll costs (with Sunpass actually offering a better deal than toll-by-plate).
No queuing, no stopping, no need to always have coins handy in the car.
Most agencies have good deals for toll roads
When we first noticed many Miami highways becoming fully automated it was obvious the rental car agencies tried to make the most money possible from their clients. The agreements were horrendous, almost absurd. Today most companies have acceptable agreements.
Do I need a toll deal if only driving in Orlando and along the west coast?
Not really, but you will be more comfortable when you approach the areas few toll stations. Also, you may have landed at the airport completely without coins in your pockets.
How do I handle the automated toll roads in the Miami area?
You need a toll-by-plate deal or a Sunpass. In fact, with some agencies you are not even given the chance to opt out.
Do I need Sunpass/toll-by-plate on Florida Turnpike?
No, not if you don´t drive further south than Fort Lauderdale.
Yes, if you get close to Miami and especially if your destination is Key West since the turnpike is by far the best option to get there. (It is probabaly only a matter of time when the whole turnpike will be unmanned.)
What if I pick up the car at Miami International Airport and prefer to buy my own Sunpass since I do not want to sign with an agency which has an expensive deal?
Find a route to the nearest Sunpass retailer, buy a Sunpass Mini or Sunpass Portable. According to Sunpass the transponder can not be used until the day after the device is being activated, which means you really have to avoid the unmanned toll roads when driving to your hotel. (However, I have seen information that it is possible to re-register after you have passed a toll station, this is not confirmed information.)
Toll-by-plate deals with rental car agencies for toll roads
There are really expensive deals – avoid them!
The bargain deals do not cost more than $ 16.75, others just under $ 20.00 – that's what to chose!
There are four different types of agreements for Florida toll roads.
We are not responsible for any regional disparities, as well as changes made after this article was last updated.
READ MORE: Guide to cheapest gas prices in Florida
READ MORE: Learn about Florida traffic and roads

Hertz
Cost: $ 4.95 per day plus toll fees. Max $ 24.75 for one month (30 days).
Terms: You do not have to decide anything when you pick up the car, since the agreements is not activated until the first time you enter a toll road.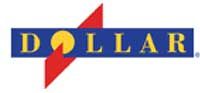 Dollar & Thrifty
Cost: $ 10.49 fixed fee per day, with a maximum of $ 52.49 per week.
Terms: You must decide when picking up the car. If you choose to waive and end up passing a toll station during your rental period, you will be charged quite a lot.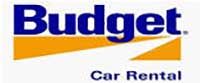 Avis & Budget
Cost: $ 3.95 per day plus toll fees. Max $ 16.75 for one month (30 days).
Terms: The agreement is automatically included in the car rental.



National, Alamo & Enterprise
Cost: $ 3.95 per day and max $ 19.75 in total fee per rental period, plus toll costs.
Terms: You do not have to decide when you pick up the car, the agreement is active from the time you first enter a toll road.
Useful information about toll roads in Florida:
Do not get confused by the different names at toll roads in Florida. It works the same everywhere, regardless of whether the sign says "SunPass Only", "E-PASS Only" or "LeeWay Only". The same applies to the various names in the agreement. Example: you will find expressions such as Sunpass, Toll by plate, Rent a toll, PlatePass, eToll, TollPass and other variants.
The price information above comes from Sunpass's own website and refers to the car rental companies that Rentalcars works with. We take no responsibility for price changes made after this page was last edited.
If you visit Florida often, you may want to consider buying your own Sunpass.
These are the options:
A Sunpass Mini is perfect for a regular visitor, it costs 4.99 USD plus tax.
Sunpass Portabale can be used by various vehicles and is an option for the frequently visited. This portable transponder costs $ 19.99.
Sunpass retailers:
Publix Super Markets, CVS Pharmacy Stores, Amscot and AAA Insurance Office. Sunpass can also be purchased at Navarro and Sedano's Supermarket pharmacies in Broward and Miami-Dade. Also at all Florida Turnpike service and gas stations and SunPass service centers.
A Sunpass transponder cannot be shipped outside the United States.
Hundreds of Florida activities – excursions, sports, nightlife – book here!
Please click on an activity and get more alternatives.