Maps of Florida – for inspiration and for fun. You will understand the destination better and might find an interesting detour.
Maps for Miami (from the airport to the beaches), Orlando, Key West, "Islands in The Stream" (the barrier islands on the west coast), Everglades National Park, the best hotels at Disney World and much more.
In addition some odd, fun maps and a few ancient maps as curiosities.
Maps of Florida is an on-going project.
Most days we see examples of great illustrations that provide inspiration for a trip to the huge state of Florida.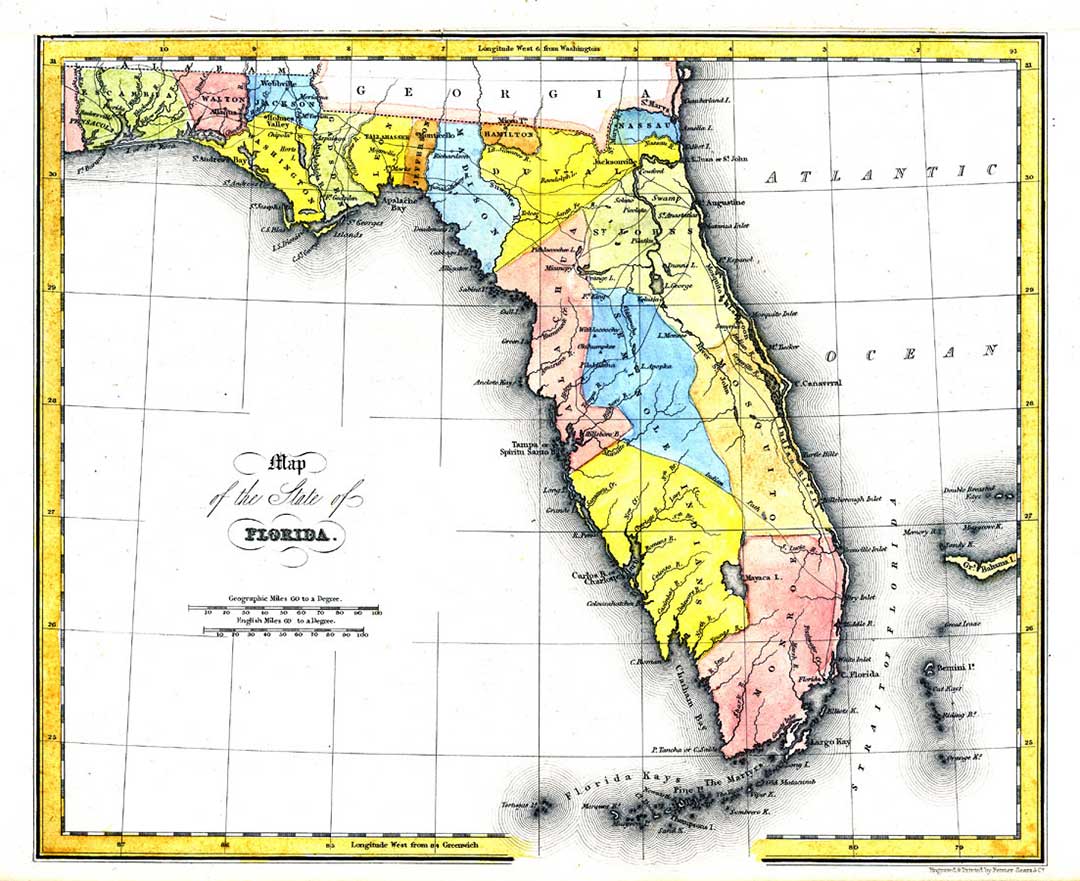 We start with something really old. This was what Florida looked like in the early 19th century.
Besides well-known names like Pensacola, Saint Augustine, Jacksonville, Cape Canaveral, Tampa, Gulf of Mexico, Atlantic Ocean, St. Johns River, Lake Okeechobee and Tallahassee, you see indian trails and the division in counties as it was back then.
This was before Florida became part of the United States and you can see that the map was drawn after East and West Florida merged (1822).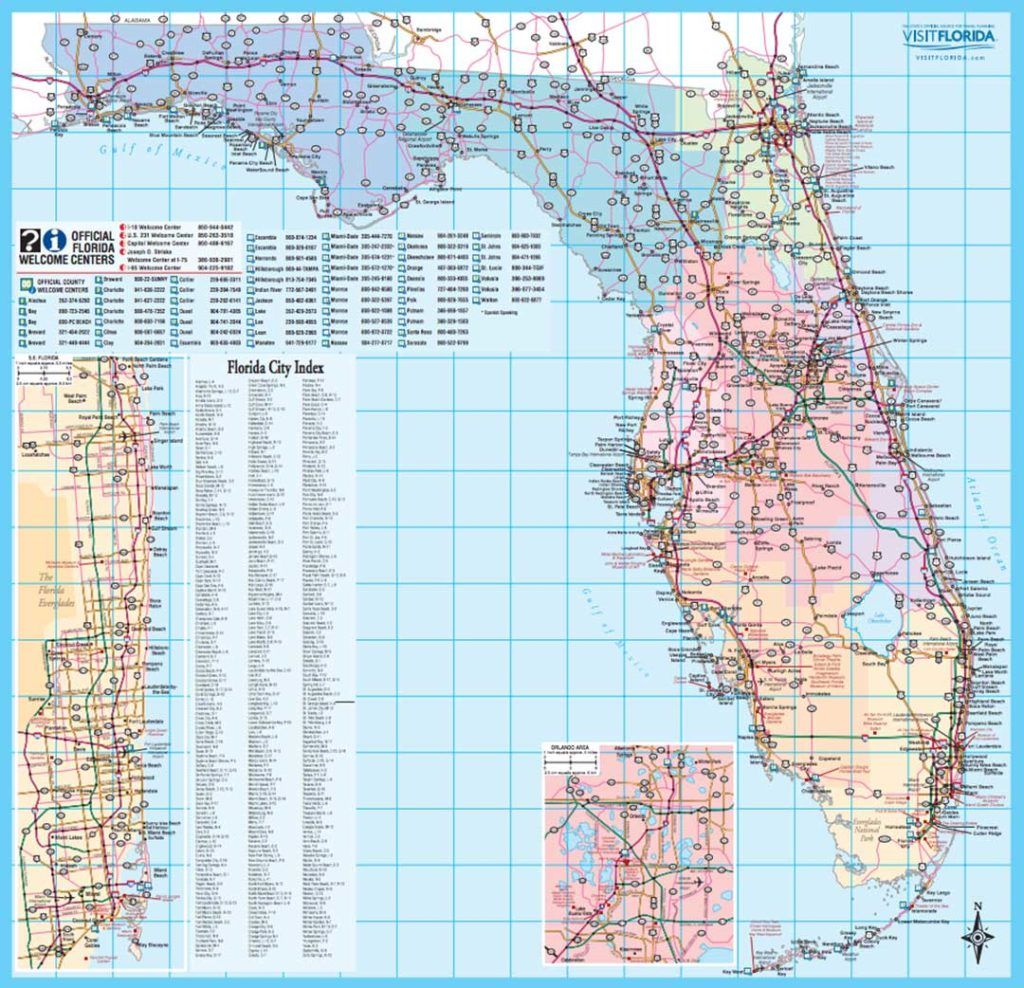 ALL OF FLORIDA – roads and regions
Florida Backroads Travel is always a good source of information. The site's map page has a broad range of good information, for example above map of the whole state. In addition, different regions, country roads east to west and more than 100 car excursions and much more.
Lighthouses in Florida, use them as benchmarks for road trips.
Map from 1856
This 1856 map of Florida was made by the surveyor-general, and it is probably one of the most detailed and accurate depictions of the "original" Florida.
A large section shows the natural configuration of South Florida's water system, where the water once flowed freely from Kissimmee River Basin, into Lake Okeechobee, southward through the Everglades, then exiting into Florida Bay and the Gulf.
By comparing the 1856 situation to today, it's easy to see why Florida's water is in such a mess. A once-integrated, natural water flow has now been dammed, diverted, and piecemealed by a series of man-made "improvements," and it barely resembles the cohesive system it once was.
With all the "progress," nothing works like it should, and the dysfunctional result has evolved into a steady supply of dirty water that is creating misery for people, businesses, and wildlife from coast to coast.
Learn to live with it?
It's clear that Florida has some choices to make. Is it acceptable to continue to divert polluted water far and wide and just learn to live with it?
Or should we look to what Florida once was and work to restore it to what made it so special in the first place?
COREY MALCOLM/FACEBOOK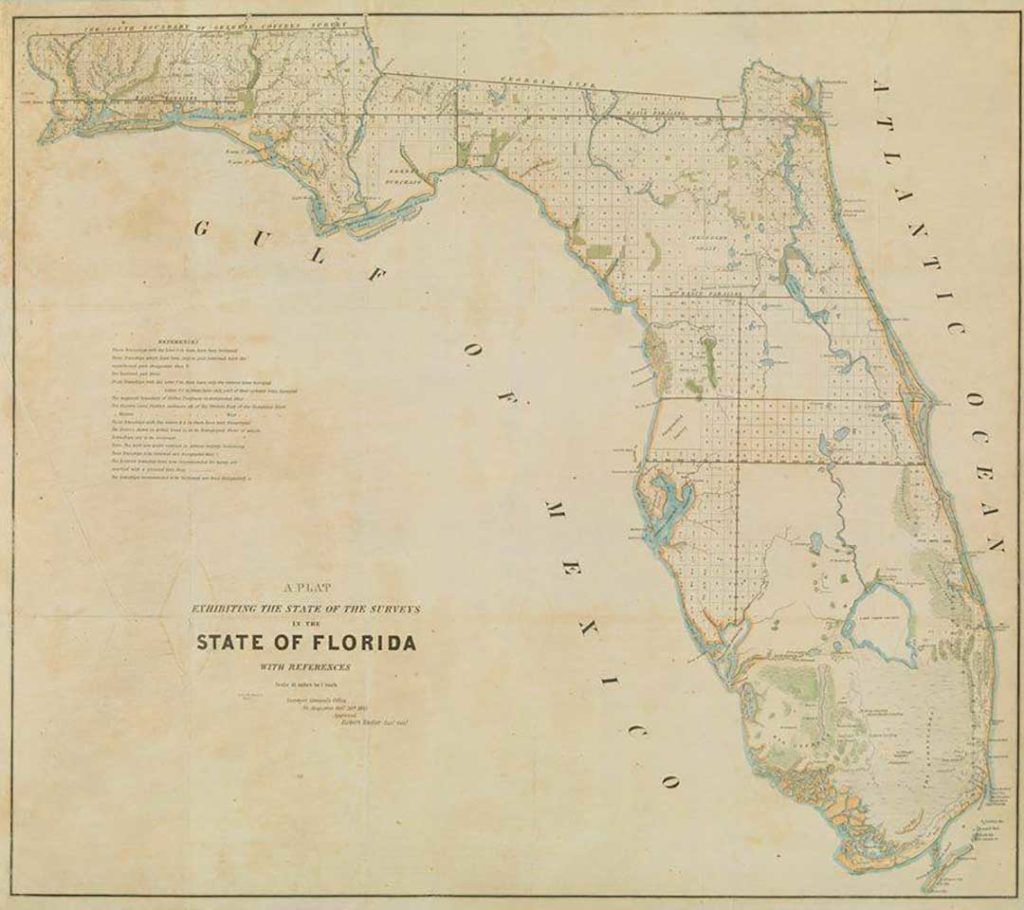 Florida's birthday is March 3, 1845. The above map is from that year.
Start with the Google Maps of Florida
The Google Map is, of course, your starting point for planning your Florida trip. You will find variations of this map on many of our pages.
Important to remember:
The times Google gives you from one place to another is always calculated without stopping, keeping the exact speed limits that apply to the route, without traffic jams. The time you get from Google will be pretty accurate if you only drive on the big highways.
MAP ORLANDO:
The Orlando map gives you some important starting points.
In addition to the three largest park areas, Disney World, Universal and Sea World, also Orlando International Airport and Lake Eola, which is our benchmark in downtown Orlando.
MAP MIAMI:
Three key points: Miami International Airport, South Beach and North Beach.
As an orientation:
Distance in time from the airport to Miami Beach is approximately 30 minutes (if its not rush hour).
Driving from South Beach to North Beach takes 20-30 minutes.
MAP KEY WEST:
Take a look at Mallory Square and the Southernmost Point. Walking this two kilometers stretch along Duval Street takes half an hour.
On the map also the airport and the city's entrance, to show how far it is to Duval Street if you choose to stay in these areas.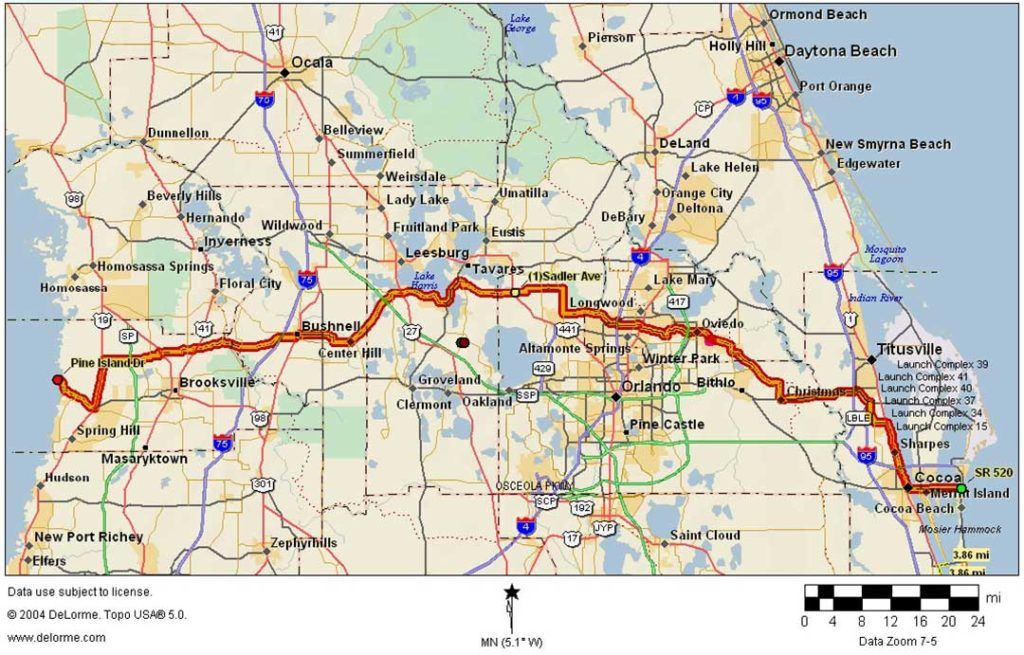 Maps for cyclists
Cycle from coast to coast, inspiration for those seeking an active Florida vacation.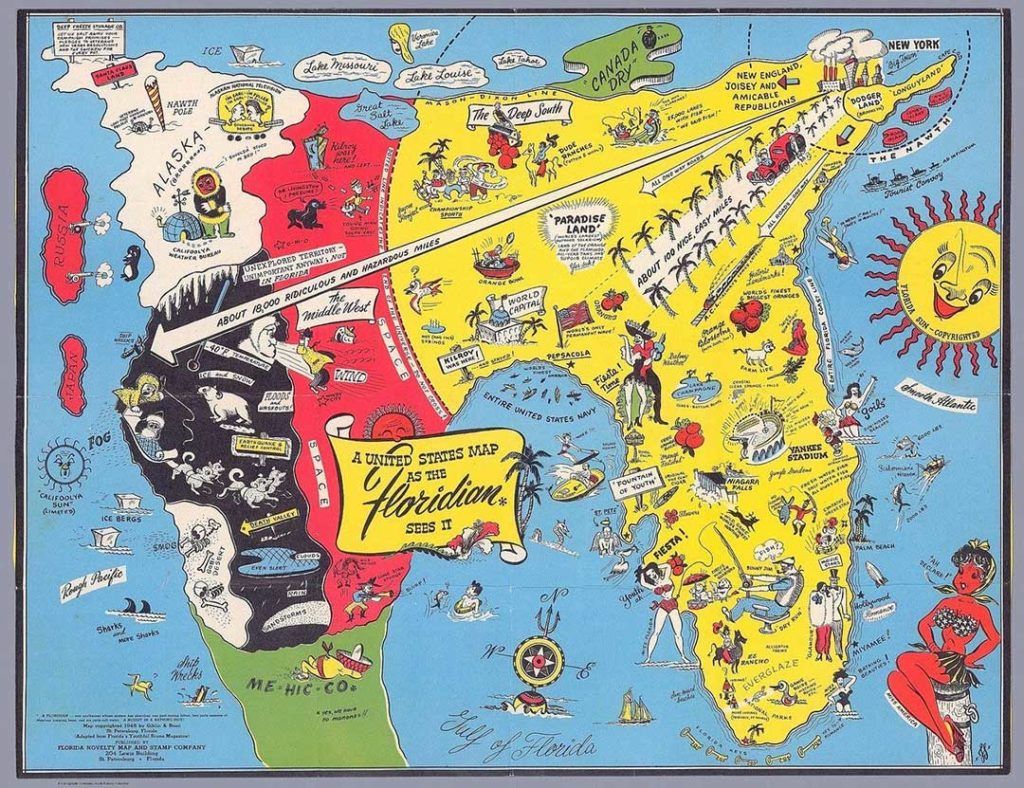 As early as 1948 Florida residents were cocky enough to have their own views of the rest of the United States and the North American continent.
Really hard to judge the year for this old Florida map. I see a few familiar names, but most places are not known to me.
MAP WEST COAST ISLANDS:
This map, called "Islands in The Stream", is an inspiration for adventures from Tampa Bay to the north to Everglades City and Ten Thousand Islands to the south.
MAPS EVERGLADES:
The Google Map shows the part of the Tamiami Trail that passes through the Everglades, with several interesting stops marked.
The map below shows the Everglades National Park, albeit a chunk of land area, far less than the whole Everglades area.
HOTELS LAKE BUENA VISTA:
The favorite Disney hotels are within walking distance to Disney Springs, the best entertainment venue in Orlando.
Hundreds of Florida activities – excursions, sports, nightlife – book here!
Please click on an activity and get more alternatives.