Florida weather average: How much does it rain in Florida? Will it get cold in the winter in Florida? Can I expect sun in Florida during my holidays?
Because the answers to the questions are partly related to which part of Florida is visited, our statistics about Florida weather average are presented from nine different locations on the Florida Peninsula.
The places represent the state's most popular holiday destinations, and they give a geographical spread to all latitudes.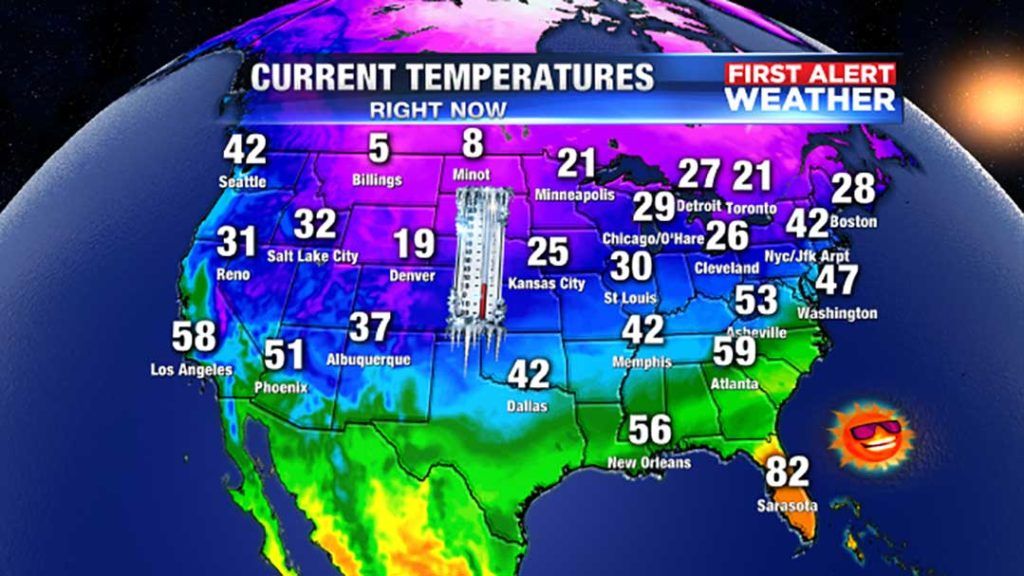 Florida weather average: Temperatures, hours of sunshine and rainfall
The compilation of statistics for Florida weather average starts with Orlando because of two reasons:
The most popular destination.
A few things to think about during a winter visit.
We then continue to handle the state of Florida counterclockwise, which means from St. Augustine in the northeast, around the coast, to end in the north with Panama City Beach.
Florida weather average – a difficult question with a few simple answers
How is the weather in Florida – this eternal question actually has a few simple answers.
But some of your questions are almost impossible to answer even though it's about The Sunshine State.
The below statistics explain a little beyond what we have written so far about the weather during the year in Florida.
Sunny? How much does it rain? How warm/chilly is it?
Difficult questions, simple answers through the information about Florida weather average for nine places.
Although you can talk about summer (as in northern Europe) during the winter in practically the whole of Florida (except in the far north) it can sometimes be a little chilly, especially in the evenings, in parts of the state that many Europeans visit. I'm especially thinking of Orlando. Bring a sweater!
The Miami area had some rather harsh winters during the 2000's and not so long ago it was below 10 degrees in Key West – extremely unusual! You should generally be able to expect at least 20 degrees even during the winter in those parts of Florida.
With the help of yr.no you see all conceivable weather statistics in Florida.
Check, for example, the average temperature for each month, but see the maximum and minimum temperatures more as a curiosity.
In addition you see the average rainfall. But statistic feels a little misleading. It rains of course a lot during the summer. Mostly heavy showers though, but they pass quickly.
PETER SUNESON
ORLANDO

– warmest in July
Orlando from my own experience: Absolutely lovely days in January. Sun from a clear blue sky. A sweater may be needed in the evenings. Because (as you can see from the statistics) it will be a bit chilly later in the evening.
It rains most in July, which also is the warmest month. Lowest temperature ever: -7 C.
St AUGUSTINE – most rain in September
When I get my reports from the CEO of Florida.nu (Gunnar Hedqwist in St Augustine) he sometimes complains that he freezes in the winter.
Maybe even need to use a hat? Coldest in January. It rains most in September.
DAYTONA BEACH – typical for the east coast
Daytona Beach is included here as a benchmark for the coast at the height of Orlando. Here, too, it has been minus degrees, the worst in 1985 with – 9 C. The warmest was 39 C, but That was over 30 years ago.
MIAMI BEACH – reliable winter destination
In Miami Beach we encounter a slightly higher temperature during winter than on the west coast. Among other things, this has to do with the Gulf Stream going closer to the coast here. Fort Lauderdale follows the same weather pattern.
KEY WEST – the most tropical weather
A few years ago, 8 degrees C was noted in Key West. I did not think it was true! (But apparently it has happened before, only 5 C 1981.)
But stay cool, Key West is tropical almost all year round. For a short time during the winter months the average temperature at night is below 20. But normally, during the day, it should be 22-23 or more that time of year. Most rainfall in September.
FORT MYERS – typical for the southwest
Here it is warmest in July, as in so many other places in Florida, also the month when it rains the most. Fort Myers weather conditions are typical of the southwest corner and are slightly higher in temperature than other parts of the west coast during the winter months. There is a climate border between here and the Sarasota/Tampa Bay area.
SARASOTA – typically west coast weather
You can almost equate Fort Myers here. But the climate border means that it can differ some degrees during the winter months. Also warmest here in July, but for some weird reason a little more rain in August compared to July.
CLEARWATER BEACH – always over 20 during the day
Despite its northern location on the west coast, the average daytime temperature is always above 20 degrees. Not a minus degree as long as we have been residents in the area, i.e. almost 25 years.
PANAMA CITY BEACH – great summer weather
Panama City Beach may represent North Florida. A really nice area, weather-wise, to visit in the summer. In the middle of winter, however, temperatures often stay below 20 degrees. Coldest in January. North Florida thus rarely reaches normal northern European summer levels during the winter.
Hundreds of Florida activities – excursions, sports, nightlife – book here!
Please click on an activity and get more alternatives.