Florida traffic and roads – no major concern for European drivers.
Traffic in Florida flows significantly better and is calmer than in many parts of Europe. The roads are in very good condition.
You are in the United States, the country where motoring was born.
Well signposted and in general a map is enough to not get lost.
Here are some important reminders and tips on what to have in mind.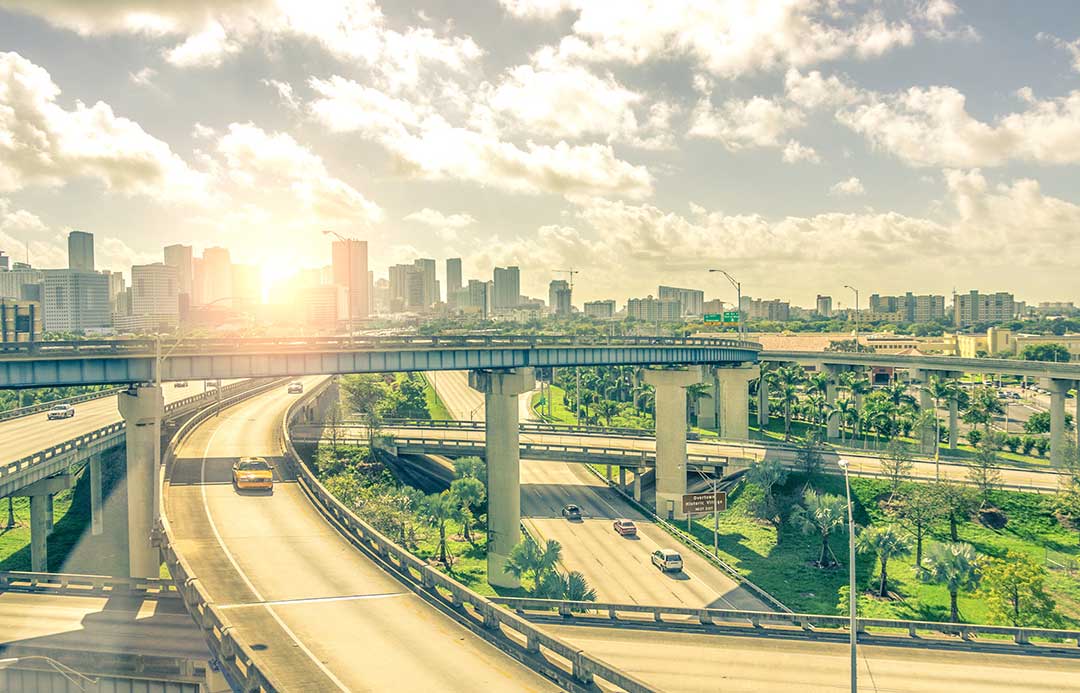 With a few exceptions: Traffic in Florida is usually calmer than in Europe
There are general speed limits in Florida.
Normally the maximum speed on "interstates" (motorways) is 70 mph, 65 mph on four-lane motorways outside urban areas and 60 mph on other roads outside urban areas.
Speeds vary within cities and in other densely populated areas.
Two simple tricks to get acquainted with MPH (miles per hour):
Count 1,5 (so add 50 percent) and you get the speed in kilometers/hour.
On highways that not are interstates you can expect to reach one mile per minute, i.e. if you maintain an average speed of 60 MPH.
Florida traffic and roads – school zones and school buses:
Beware!
Here are strict regulations regarding speeds.
If the school is close to a traffic route, the speed limit will be reduced to very low speeds when the kids are arriving or leaving the school.
The school zone is often marked with flashing lights.
Slow down and do not pass other vehicles!
If you see a school bus that has stopped on the road and turned on a flashing red light, do not even think of passing the bus. Stay behind and wait for the driver to turn off the red warning lights.
Expect severe penalties if you overtake a school bus that are picking up or dropping off passengers.
On a tho-lane road this also applies if you come from the other direction and are meeting the bus.
Florida traffic and roads – the network of roads
The road network is well developed in Florida. The vast majority of the freeways are free. However, Florida is in the process of getting more unmanned toll roads.
In many parts of the state the process of getting rid of the manned toll stations is quite slow, but the change is noticeable. Do not pay fines unnecessarily!
No one who has read our advice should have to pay unnecessary costs, either with the car rental company or in the form of a fine!
Therefore, read our tips on how to deal with toll roads, regardless of whether it is called Sunpass or toll by plate.
Florida highways, state roads (SR), county roads (CR):
Florida is crisscrossed by many ordinary countryside roads, some are state roads (SR) but most are county roads (CR).
Many of them are double-lane, and they often have stop lights which makes these roads relatively slow.
They are very nice detours, but add quite a lot of time compared to what a Google map indicates.
Warning 1: There are many speed checks on the roads.
They are often difficult to detect and the fines are quite high. There are both marked and unmarked police cars. The latter we have seen more and more often in the 2000s, not least on I 95.
Warning 2: If you get a speeding ticket when driving a rental car – pay the fine. If you do not pay voluntarily, you can expect the fine to catch up with you through the car rental company.
Warning 3: Important to know about traffic in Florida: that on freeways it is allowed to pass carn both on the left and right side. (Really confusing before you get used to it.)
So keep an eye on the right rearview mirror as well, sometimes a speeding car will come as a surprise at a furious speed. This is sometimes the easiest way to pass a "snail" or truck that has decided not to leave the middle lane. ("The Snail" may be a winter visitor who has decided to stay in the middle lane all the way on his way home – from Miami to Massachusetts, 3,000 kilometers…)
Florida traffic and roads – driving times and distances:
Here we take the opportunity to show the map with the absolute longest distance in Florida:
From the state border to Alabama in the northwest (Pensacola approximately) to Key West, which is the southernmost point of the mainland United States. Over 1,300 kilometers!
Miami – Fort Lauderdale
Miami – Orlando
Miami – Key West
Miami – Tampa
Miami – Daytona
Miami – St Augustine
Miami – Jacksonville
Tampa – Disney World
Tampa – Clearwater Beach
Tampa – Daytona Beach (via Orlando)
27 Miles (43km) – 40 minutes
229 Miles (366km) – 4 hours
164 Miles (262km) – 3 hours
273 Miles (437km) – 5 hours
253 Miles (405km) – 4,5 hours
304 Miles (486km) – 5,5 hours
341 Miles (546km) – 6 timmar
72 Miles (115km) – 1 hour
22 Miles (35km) – 40 minutes
135 Miles (216km) – 2 hours
International driver's license is not required in Florida
Your normal driver's license works well in Florida. (Different rules might be applied by other US states though.)
Due to a less thoughtful decision by the Florida state government, we are still asked if you must have an international driver's license.
But you can forget all the talk about having an international driver's license in Florida. The heavily criticized law was stopped very quickly.
GUNNAR HEDQWIST
Free highways, north-south direction
Interstate 75 goes in a north-south direction, in the middle of the state up north, passing through Gainesville, Ocala and down towards Tampa. After Tampa it follows the west coast towards Fort Myers, Naples and then turns east towards Miami. The section from Naples to Sunrise in East Fort Lauderdale (this part of the freeway is called "Alligator Alley") is a toll road ($ 2.50 in cash the last time we drove there).
Interstate 95 goes in a north-south direction along the east coast. It passes through Jacksonville, North Florida, and passes St. Augustine, Daytona Beach and via several smaller towns and Fort Lauderdale to end in Miami.
Free highways, west-east direction
Interstate 4 goes through Florida in a west-east direction from Tampa diagonally up to Daytona Beach on the east coast.
Interstate 10 goes west-east in north Florida, from Pensacola in the west to Jacksonville in the east.
Highways where you are charged to drive – toll roads
We describe how it works and what you should think of a special page about toll roads. Here is a compilation of toll roads:
The Florida Turnpike leaves Ocala, passes Orlando and down to Miami, and ends in Homestead. South of Fort Lauderdale you can not pay in cash. This is a very good option if you want to drive between Miami and Orlando. We will probably see the automation of the toll stations continue north. (There are already a number of exits that require toll agreements, but these exits go to suburbs and as visitors we have no reason to drive off here.)
Bee Line Expressway (SR 528) which runs from Orlando to Cape Canaveral. This is the airport highway in Orlando, good to have some American coins in your pocket because there are toll stations where you only can pay with coins (if you do not have an agreement).
Western Expressway (SR 429) runs from Four Corners (at the height of Celebration) to Apopka northwest of Orlando.
SR 414 (Maitland Blvd) runs Apopka-Maitland.
SR 408 (Spessard L. Holland East – West Expressway) runs east-west and passes, among other places, the central parts of Orlando.
SR 417 in Orlando (also known as the Seminole Expressway or Central Florida Greeneway) runs from Celebration in the south to Sanford in the north.
Osceola Parkway (from Disney World to Florida Turnpike), parts of the road are tolled.
Polk Parkway forms a kind of semicircle around Lakeland, west of Orlando.
Suncoast Parkway/Veterans Highway, runs from Tampa north toward Homossassa. The toll stations have been fully automated since 2014, so no cash is accepted.
Selmon Expressway connects southern and central Tampa with the suburbs around Brandon to the east. There is no chance to pay cash here.
Alligator Alley, i.e. the part of I 75 that runs from Naples to Sunrise, Fort Lauderdale.
Sawgrass Expressway, from Sunrise to Deerfield Beach. Extra tricky because you might choose this route to get to Sawgrass Mills Mall. Cash is not accepted here.
The Miami freeways are a special chapter, several of them are fully automated (i.e. cashless) and it may only be a matter of time before we see the last manned toll station disappear. Examples of cashless highways in the Miami area: Airport Expressway, Dolphin Expressway, Don Shula Expressway, Snapper Creek Expressway, Gratigny Parkway.
Confusing facts about Florida traffic and roads
The roads in Florida have many names, often three.
First of all, an official number (even several different numbers). Thereafter at least one name, often two (or even three or four!).
READ MORE: Five important insurances for free with your rental car
Hundreds of Florida activities – excursions, sports, nightlife – book here!
Please click on an activity and get more alternatives.