Florida from space – see the picture as another way to understand the size of the state. This is what the peninsula looks like on a satellite image.
An excellent illustration of a state that is far more than one single holiday destination.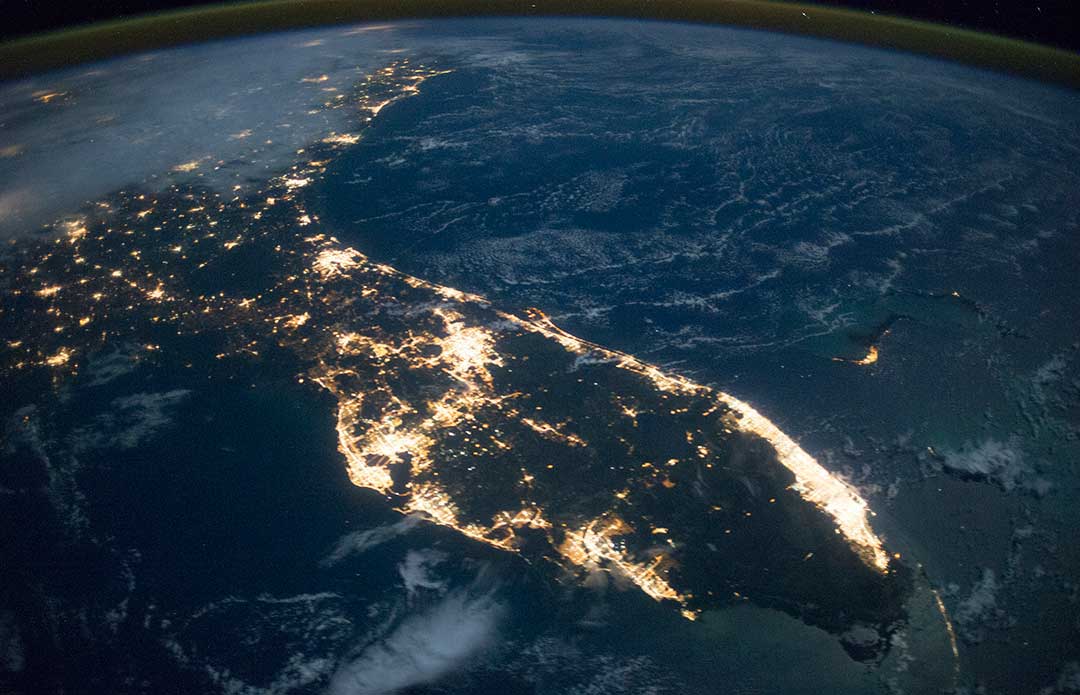 In the satellite image, we only catch a glimpse of northern Florida at the top left, an area that is almost as large as the parts we normally visit as tourists, i.e. the rest of Florida.
In the middle, Orlando lights up central Florida. A big city that is growing in all directions.
We see very clearly in the image of Florida from space that southeast Florida is dominated by a metropolitan area consisting primarily of Miami with Miami Beach and Fort Lauderdale. (Compare with the deserted, unlit, gigantic Everglades area next door.)
Florida from space – from small to large
The east coast in general is a mix of small towns, much is built up but there are also relatively many beach sections without buildings along the Atlantic. Here, places like Daytona Beach, Cocoa Beach and Vero Beach can be good landmarks.
On the west coast, we see similar metropolitan areas around Tampa Bay, where we find favorite places like Clearwater Beach and Sarasota. Further south, Fort Myers and Naples together form another bright area that is clearly visible from the space station.
The Florida Keys and Key West (which we count as part of southeast Florida) are Florida's "tail", which is not really visible in the image of Florida from space.
We have created this information site to help you choose the right one for your Florida vacation because we know how difficult it is to try to get a grip on the entire state from home.
Simple tips about Florida that should be repeated:
There are some simple tips, which we often have reason to repeat:
Do not become a time and distance optimist. The map is lying. Despite motorways, transports almost always take longer than planned.
Find a "base camp", a nice place that you start from. Checking in and out of hotels takes unnecessary time.
Do not see the Florida trip as a vacation where you should visit as many places as possible. It may sound strange, but a lot is the same no matter what small town you visit. This as a general rule.
Once again: Let the Nasa experts (i.e. Florida's pride in the Kennedy Space Center) show you right through this image of Florida from space.
PETER SUNESON
More Florida from space
The picture comes from NASA, of course. If you want to see more images from space, or about space, go to NASA's image page which is free. A new picture every day and you can also watch videos.
READ MORE: The shortcut to E-tickets in Orlando
Hundreds of Florida activities – excursions, sports, nightlife – book here!
Please click on an activity and get more alternatives.