Dry Tortugas with Fort Jefferson is a very exciting excursion from Key West. Historically interesting place. But most of all, we like the peaceful environment of the national park far out to sea.
Like getting to the end of the world, even though despite the distance (geographically) we are still in the Florida Keys.
Excursion from Key West to historic environment in national park
Whatever you read in other information about Florida – there are only three national parks in the state: Everglades National Park, Biscayne National Park and the national park presented here: Dry Tortugas with Fort Jefferson.
The reason that other parks, for example some state parks, are sometimes given the same name may be that they fall under the same authority, the National Park Service. The Big Cypress Reserve in the Everglades area feels like a borderline case, we see it almost as part of the Everglades Park.
Seven islands, plenty of water, at Dry Tortugas with Fort Jefferson
Although the area consists of seven islands, Dry Tortugas (just like Biscayne National Park) is a 99 percent underwater national park. The archipelago was discovered by Ponce de Leon in 1513, the same year that the Spanish colonizer discovered and named Florida. The diversity of sea turtles (tortugas) gave the islands its name. "Dry" was added later since seafarers wanted to highlight the lack of fresh water.
Dry Tortugas became an important military fortification for the United States in the form of Fort Jefferson.
At most 2,000 people lived here, military and civilian with families, plus slaves and prisoners. The huge fort (which in fact was never completely completed) was strategically well placed to defend the southern United States.
Later, the fort was used as a prison, its most famous prisoner being Dr. Samuel Mudd who was sentenced to life for involvement in the assassination of President Abraham Lincoln. Fort Jefferson has also been a military hospital.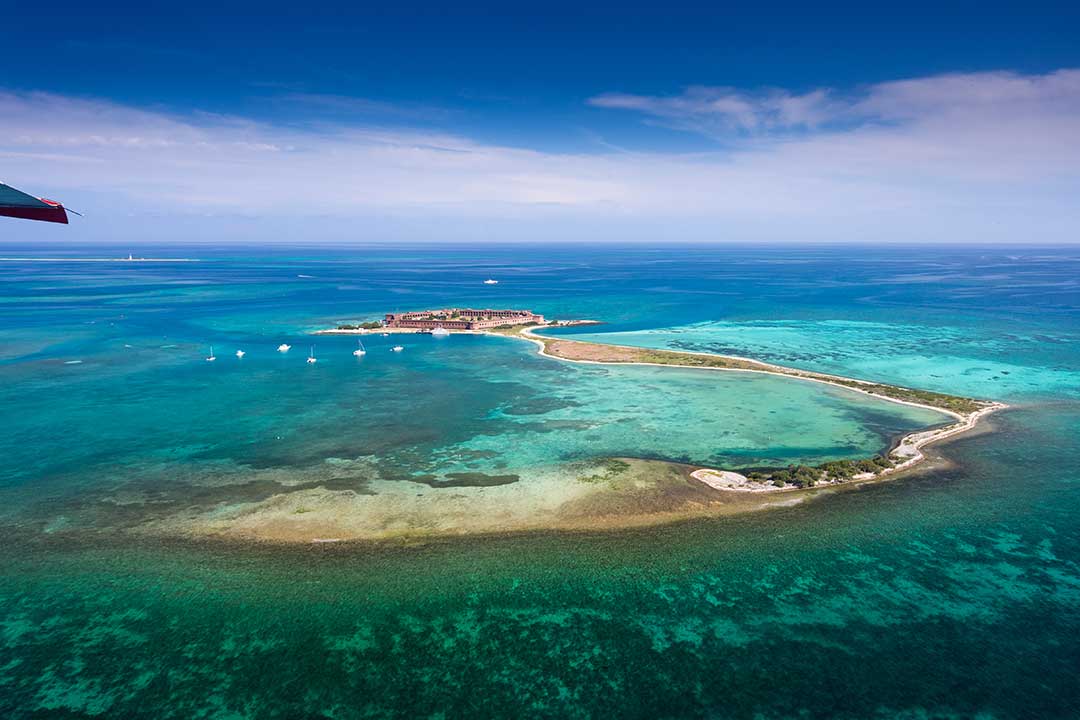 Snorkel, paddle canoes at Dry Tortugas and Fort Jefferson
Nowadays you come to Fort Jefferson and Dry Tortugas to relax and enjoy the beautiful surroundings 100 kilometers just west of Key West. There are really no giant surfaces to look at. But the fort itself plus the surrounding beach areas lasts quite a long time for the duration of the visit.
The main island of Garden Key has excellent opportunities for snorkeling in shallow water. The surrounding coral reefs offer a rich marine life.
There are also canoes for rent.
Bird watchers are not likely to be dissatisfied and the guided tour around the fort provides many references to American history.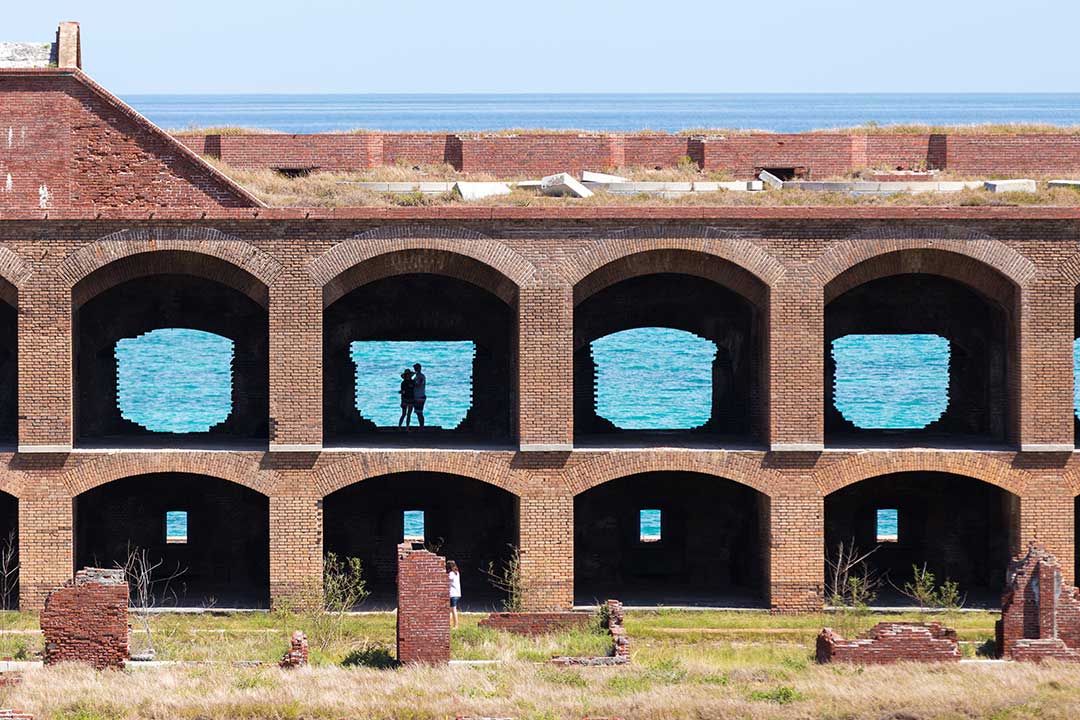 Possible to stay at Dry Tortugas overnight
Really adventurous travelers stay overnight. Here it is important to reserve, the number of places for camping is limited. You have the right to stay three nights.
However, it feels like a day trip is enough. Although you can charter a seaplane, the fast ferry from Key West is the natural choice. A comfortable boat trip that takes just under three hours. The visit to the island is four hours.
PETER SUNESON
Yankee Freedom III sails
from Key West every morning
Yankee Fredom III is the fast catamaran that sails back and forth Key West – Dry Tortugas every day.
Departure from Key West at 8 AM. Return home at 2.30 PM.
A day trip that includes breakfast, lunch, guided tour and snorkeling equipment costs about $ 175 for adults, $ 125 for children. Ie cheaper than a day at Universal with express pass – and definitely worth every dollar!
Hundreds of Florida activities – excursions, sports, nightlife – book here!
Please click on an activity and get more alternatives.