All-inclusive family adventure with dolphin swim at Discovery Cove, a tropical and exotic setting with the bonus of free tickets to Sea World and Aquatica, plus discount at Busch Gardens.
Tickets for this sought-after and exclusive dream adventure in Orlando can be booked directly from us. Cheaper than the regular price and free entrance to the other Sea World parks with the purchase.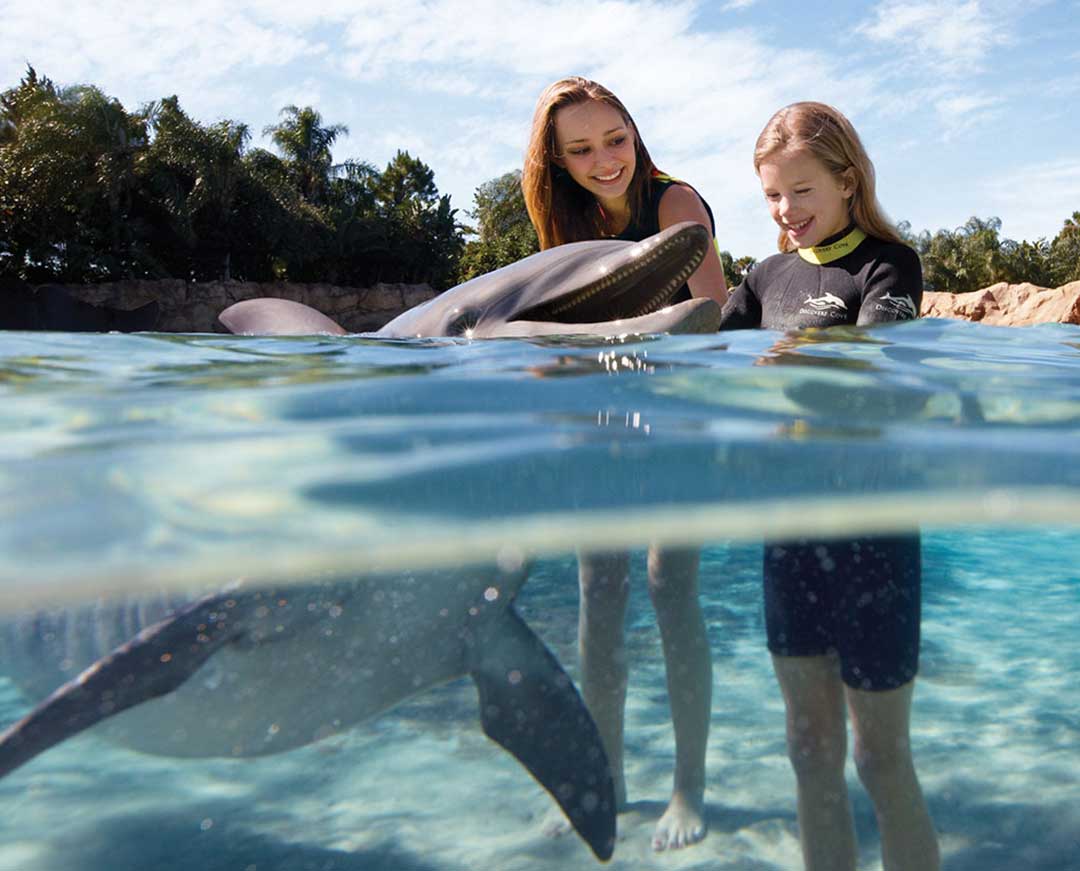 All-inclusive family adventure – a full day with water fun
Tickets to Discovery Cove might seem expensive. However, the price feels more normal if you count the free tickets to other parks. Thanks to Official Ticket Center, we dare to promise the absolute lowest price available – often $ 25-50 cheaper than the official price list. Something that more and more people have discovered and made Discovery Cove our bestseller.
In this exclusive park, which is Sea World's little sister, you can not only swim with dolphins. There are many other high class water adventures.
During all the years of information work about Florida, many questions have been asked about dolphin swim. Therefore, these attractions have got their own section: Swim with dolphins.
Discovery Cove, which is an all-day fun, is among them.
This park does not work like the other Orlando parks in terms of ticket sales, so a few other routines apply here.
There are several reasons, including:
The park only receives a limited number of visitors each day.
The price varies a lot depending on the season and day of the week.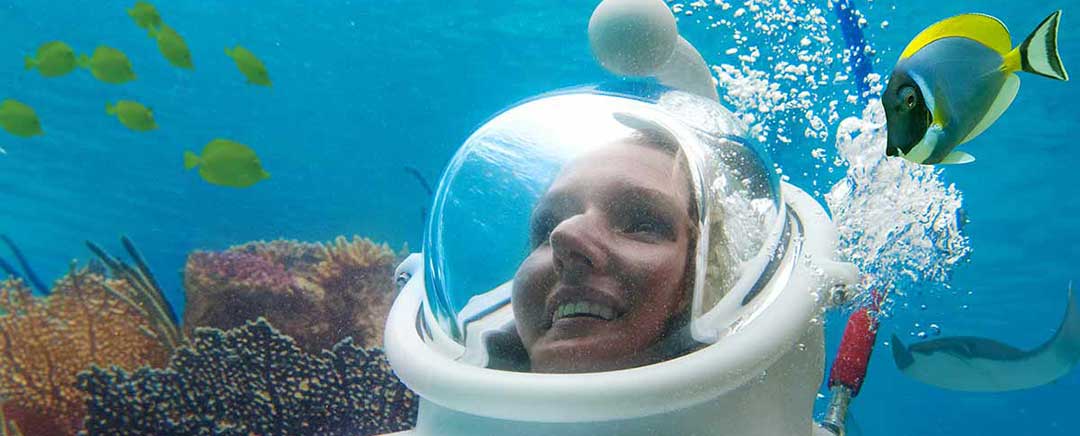 Much more than dolphin swim in the exotic theme park
The exclusive and exotic park next to Sea World is famous for its dolphins, and that you can swim with them.
What is easily forgotten, however, is that the entire park is a huge water adventure where you can, for example, snorkel at an artificial coral reef.
Also easy to forget is that it is an all-inclusive park, so food and drinks are free. Also remember that you can buy normal admission at a lower price. Or vice versa, add activities.
Discovery Cove only accepts a limited number of guests. No congestion, everyone should feel both at home and be sure to be able to participate in all activities and test everything in the park area. No queues, no stress.
Plus lots of bonuses:
Free admission to Sea World any day during your stay in Orlando.
The same applies to the Aquatica water park.
Discounts on tickets to Busch Gardens in Tampa.
These ticket benefits are valid for two weeks before or after the visit to Discovery Cove.
Tickets for Discovery Cove can not yet be booked online at the Official Ticket Center as with all other Orlando parks and other entertainment in central Florida. Information on how to best book tickets to the park can be found further down on this page.
If I sum up what a visitor gets for the money inside the park plus other parks as a bonus, I understand why Florida travelers are asking us about this exciting and all-inclusive family adventure.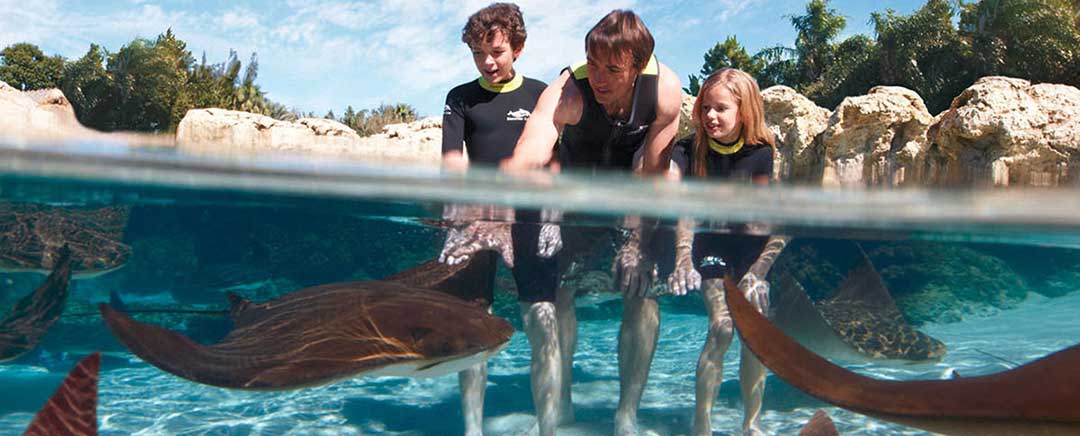 Discovery Cove: How to book your all-inclusive family adventure
Determine the date of the visit. Exact date is a prerequisite for the special price we can offer together with OTC.
Write how many people and their names. NOTE that the children must have reached the age of six. The child price is the same as for an adult.
Provide contact information (an email address).
Also indicate the type of tickets, i.e. the participants that want the dolphin package. (Without dolphins, you save $ 60-80.)
Send the above information to info@florida.nu and we will arrange the basic order at the Official Ticket Center, which will then take over the practicalities.
Since we started this service for our Swedish visitors, we have received many orders for Discovery Cove and reports about very successful dolphin adventures at Discovery Cove.
The latest example of a lot of money to save:
Two families wanted to swim with dolphins. The official price for the tickets was $ 2,000 while we, thanks to OTC, were able to offer the same tickets for $ 1,800. 200 USD cheaper!
Please note that Discovery Cove is not open every day during the winter season. The park needs to be maintained and during days without guests they also take the opportunity to make changes.
Do not hesitate to contact us about dates and ask about special activities: info@florida.nu
PETER SUNESON
READ MORE: Discovery Cove – information from OTC
READ MORE: Dolphin swim at other places in Florida
Our editor has tested a "Dolphin Swim Day Resort Package" at Discovery Cove, Sea World's popular park in Orlando. Not only a close encounter with dolphins, also a number of other adventures – and free food!
Hundreds of Florida activities – excursions, sports, nightlife – book here!
Please click on an activity and get more alternatives.